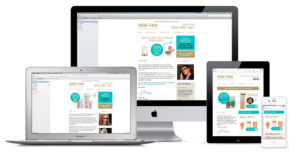 We have all had the odd email asking for bank account details in return for a Persian princess…and because of this some say email marketing is just another excuse to spam, annoy & scare users with fraudulent junk. Although you may only see the dark side to email marketing, here at JM we deliver bespoke and creative emails with compelling content.
E-mail marketing is exactly what it says on the tin, marketing done using e-mail. It's been around for years and lately, we've had clients ask if it's still relevant or needed to grow your business… YES. With so many other ways to market your business, e-mail marketing might seem like a waste of time and money however it is one of the most personal ways to reach a client or customer.
I'm going to explain to you why we believe it's still relevant and can be used to massively increase sales and brand awareness.
2.9 Billion 
E-mail marketing has been around for many years and in this time, has continued to be used to provide information, digital coupons and other offers from brand to customer.
Since sites such as Facebook, Twitter, and Instagram have grown in popularity, people seem to see e-mails as old and outdated. However, statistics show that people still check their emails regularly throughout the day and this is a huge factor for e-mail marketing. In fact, the number of email users worldwide is forecasted to rise to 2.9 billion by 2019 and the open rate for e-mails with personalised messages was 18.8% compared to 13% in 2016.
Subconscious Marketing
Strategic and personalised e-mails help grow brand awareness instantly. Although the user may not click through or convert straight away, the email will embed your brand into their subconscious and therefore cause them to either, interact with your future e-mails or, when your services or products are needed your brand will be the first they think of.
Tracking & Data
Another positive for using e-mail marketing is the statistical and data side of it. JM use various analytical tools to track data that comes from email campaigns. This data is vital to the success of both your future campaigns and how you follow up hot leads. From an email we can track, opens, clicks, forwards, the user's location, time of opening, conversions, purchase transactions for every user and much more.
This is an extremely helpful insight to how your email has been perceived and what you can do to improve further campaigns. After sending several campaigns you can then dictate buying/enquiry habits of your customers along with growing brand loyalty and awareness.
So in simple terms, Email marketing is very useful to businesses and can still increase income and brand awareness, if done correctly. The marketing tool itself isn't losing quality, it's just the number of people who have access to email marketing has increased, hence the reasons for increased spam and junk. The negative however is that you may need professional email marketing experts in order to make sure your email is creative, profitable and legal, ensuring every campaign is successful.
If you find yourself wanting to dive into the world of e-mail marketing, be sure to get in touch for advice or to launch your campaign. For more info visit https://johnsonsmarketing.co.uk/services/email-marketing 
Conner Thornewill – Digital Marketing Executive
Johnsons Marketing